I really owe a lot to my high school running coaches, Coach Preece, Coach Germann and Coach Rousseau. I joined the cross country team during my freshman year. I was unathletic and didn't even like running. Through their workouts and the team they created, I developed a love for running. I looked forward to running loops around our track, whether it be in May in the blazing heat or in the freezing, dark nights of January. They fueled my passion for the sport which pushed me to make Routeshuffle. In hindsight, without my coaches and their passion, Routeshuffle would simply not exist.

Why did I make Routeshuffle? It was now the summer of 2017, right before my sophmore year of high school. I wanted to be prepared for the upcoming cross country season, so I ran every morning that summer. I wanted to vary my routes to keep things interesting, so I'd spend about 10 minutes before each run planning my route, looking at Google Maps, researching different roads, and making sure the route I came up with was just the right distance. Could there be a way to automate this and make it fun to find new routes?

In a few weeks, I had an idea of what I was going to build. I didn't really know how to confidently code, besides very basic knowledge of HTML, CSS and JavaScript from an Intro to Computer Science class I took the year before. After about two months of working afterschool and on weekends, and overcoming many frustrating technical hurdles, I finally had a very basic prototype working: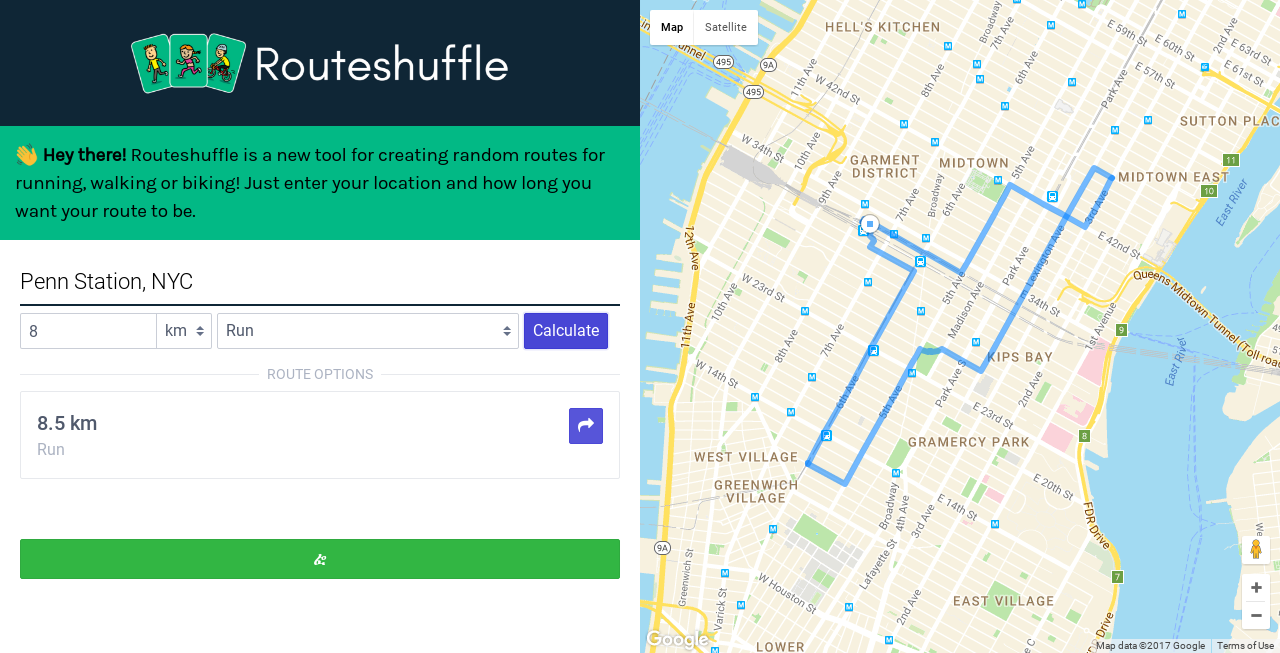 Eventually, I got the design of the site polished up and got feedback from my friends. In February 2018, the website Routeshuffle.com was launched to the world. Users entered their location and how many miles they wanted their route to be, and Routeshuffle generated a random route for them. When the website launched, it was featured in Runner's World and spread organically on Reddit and via word of mouth. Users all over the world began using it. I received emails daily from people excited about the product, giving me their thanks and suggestions for what to add.

Over the next few years, development of Routeshuffle took a backseat in my life as I began college and worked on other things. But I always kept running, and the passion for building Routeshuffle never disappeared. In the fall of 2021, I began seriously working on a "version 2" of Routeshuffle that improved the UI, UX and the ways random routes are generated. This new version launched in February 2022, exactly 4 years after the initial release of Routeshuffle.

My ultimate goal for this tool is to encourage as many people as possible to enjoy the outdoors. Get off your phone and just go. Breathe fresh air and clear your head. There is so much to explore out there!

Have an idea or some feedback for Routeshuffle? Or just want to talk about running/walking/cycling? Email me!